Inner tubes and linen fibers. What is the connection ?
You may have noticed, FANTOME is diversifising its materials. The inner tubes we used to upcycle is a mineral material and comes from the petrochemical industry. The colored felt used in the GRANITO collection is composed by mixed frayed and recompacted textile fibers coming from clothes and uniforms than can't be sold as second hand. The linen fiber is plant based and the yarn we are using in our latest collection such as the scarves, socks, the hat and the straps of our bags, is a new produced material.
For the FANTOME team, this evolution has always been crystal clear.
We totally understand you would be pleased to read explanations, and this is the subject of this blog article.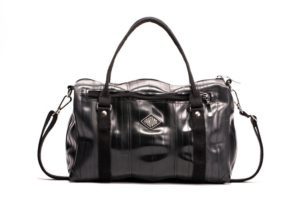 Do you know the meaning of our name, FANTOME ?
In French, « fantôme » means « ghost ». « We would like to leave as less print as possible on planet Earth, and a ghost, floating in the air, does not leave footprint. »  This is why we are creating with already existing material and/or plant based fibers.
Materials destined to be incerinated will be recycled or upcycled to lenghten their lifespan.
The plant based fibers, new or recycled, have a biodegradable end of life.
You will understand our thoughts with this following little summary of FANTOME évolutions from its creation.
You have noticed that this evolution has begun long time ago.
FANTOME is born with the wish to create a brand proposing thoughfull locally produced and vegan leather goods. This is how we began to create bags and accessories made out of the rubber of the bicycles tubes collected very close to our workshop, in France, in a known wine area called Graves (funny for a brand that is named ghost 😉). The entire collection made out of this rubber since 2014, has been designed, prepared and sawn by only 3 persons : Michèle, Charles and myself. Mother, Father and Daughter.
To go further, we changed the sewing yarn and the lining felt with 100% recycled materials with same performances. There is a lot of recycled alternatives when you have to use plastic materials, but there are just a little brands going as far as us, finding the best suppliers and accepting to pay a higher price.
Our logo has fans ! For them we released an organic cotton T-shirt in white or black with the big logo in front of it. A vintage reminder of old mecanics, with lines and curves drawn by the son of the family, Steven. The T-shirts are of course made in France.
France has lost a lot of her clothing factories, but still have several hosieries. We had fun to design our first collection of socks with organic cotton as well. During fairs, clients used to ask « why socks ? » I answer that i love socks, and if there is one article that you don't buy second hand, it is definetly a pair of socks.
The wish to always design « greener » bags made me change the composition of the straps several times. The french weavers have a limited proposal of plant based straps, but just enough to play with colors ! Our little backpack, the Square, was declined with cotton, bamboo and linen straps.
This is how the interest for linen has started.
France is the first linen fiber producer in the world for garments. It is the most local plant based fiber. Its agriculture is respectfull of the soils and in this way « doesn't leave any footprint » … 😉 Linen is also thermoregulating ! For people like me who don't want to contribute to animal exploitation, it's a welcomed solution !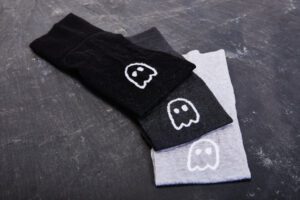 Commitment can be heavy, let's be lighter on our feet !
---
FANTOME love to propose usefull, beautifull and innovative articles, that you would find nowhere else.
In addition to the linen socks, we developped a collection of organic cotton and linen  Jacquard scarves. What is never seen in this choice ? We are the first brand to add linen in jacquard scraves with such details in the weaving, not forgetting it's comfort. I love to challenge the existing french factories with their huge knowledge. I have ideas, but i bow in front of their advices.

The organic cotton and linen scarves represent two different plant knowned as « parasites weeds » : the Blackberry and the Dendelion. With the woven text explaining in what they are important to our landscapes and the tagline « I am not a bad weed », the scarves are advocating for biodiversity. Elegant and committed !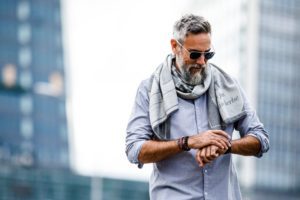 Always eager of the textile industry's inovations (as for exemple, the recycled polyester yarn and lining of our bags) i was happy to finally find an european company specialised in recycling clothes that can't be sold in the second hand market.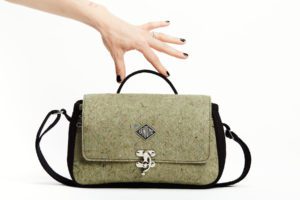 The GRANITO collection was born ! You can now appriciate the smooth and unicity of this felt made with obsolete uniforms and very deteriorated clothes. Each bag Adrienne and each Fluff case are highlighting the mix of fibers, making a similar look to granit.
Yes, 2022 has been a hurricane for FANTOME. Michèle, wife, mother and workshop chief, passed away due to a cancer. We took the decision to stop the innertubes collection, her speciality, as she won't be replaceable
We have the strenght to go further.
Always Made in France,
Always thoughtfull
Always committed
Always offbeat,
Aways unique.

FANTOME evolves, and stay convinced to have his place in the fashion « industry » by proposing an alternative.
A different fashion.
A transparent fashion.